When we cannot make up for the deficiency just by our diet alone, we need to consume supplements available in powder, liquid, or capsule forms. Dietary supplements are alternative supplements that consist of vitamins and minerals, herbs, amino acids, and enzymes. They are designed to ensure that you intake more nutrients daily, including higher amounts of vitamins and minerals. All of these are commonly used to burn fat in your body. However, some scientific evidence also proves that dietary supplements benefit overall health. 
Let's look at some popular brands that offer the best diet supplements for weight loss. 
Best Diet Supplement Brands | Top Picks 
1. Profile Plan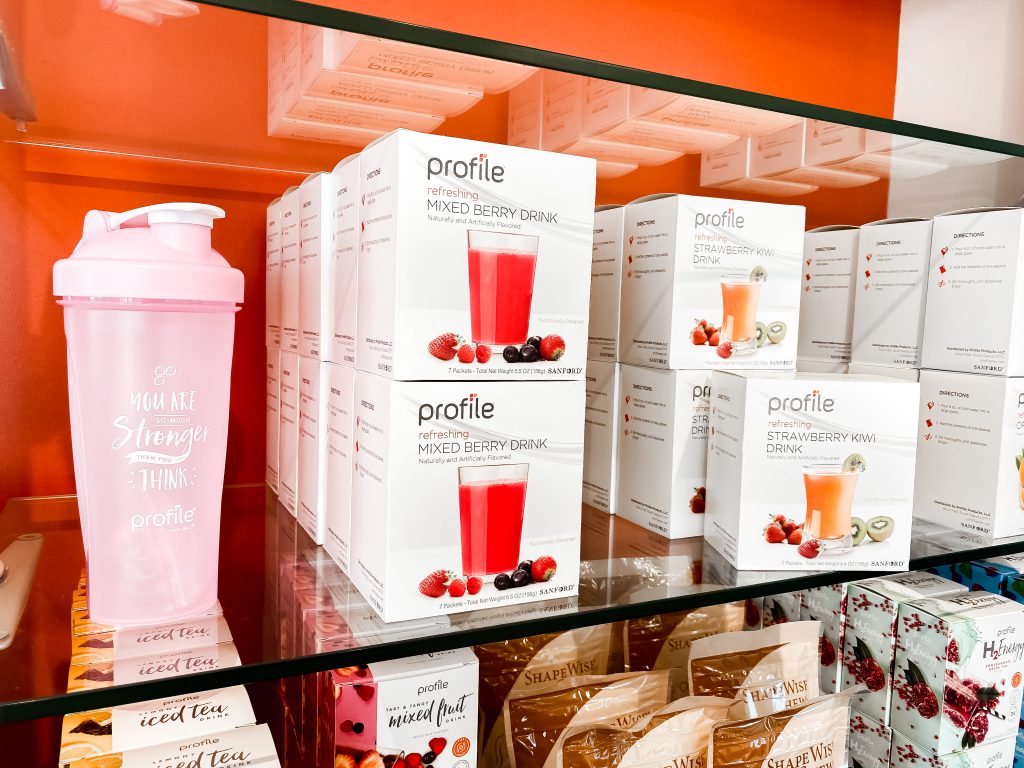 Profile Plan is a weight loss and health program that combines customized meal plans with weekly, one-on-one coaching. Sanford Health researchers and doctors created it. The program is available across the United States, with prices varying according to location. Profile Plan offers over 200 weight loss plans and tailors one to each member. You can arrange a free consultation to see if Profile Plan is a good fit for your needs, body, and lifestyle. 
According to the company, your location and goals determine the cost of a Profile Plan membership. At the time of publication, Profile Plan offers a free, no-obligation consultation. It also provides a two-week trial period with access to all plan benefits for $49.  
2. Precon
Precon GmbH & Co., based in Darmstadt, offers the Precon diet, which includes shakes and other weight-loss products. The online store sells shakes, soups, bars, cookbooks, and shakers. Recipes, diet plans, testimonials, and a blog with exciting diet facts are also available on the Precon portal. There have been positive comments about the flavor of the shakes and soups. 
Precon's diet supplements for weight loss receive high marks. The short delivery time or delivery times, as well as the flexible payment methods, have received positive feedback. Furthermore, Precon provides a 14-day return or cancellation policy. The return period begins when you receive the bars, soups, shakes, or other products.  
3. Zinzino
Zinzino is a Scandinavian global D2C company specializing in biomarker-based, personalized nutrition. It is a public limited company that was founded in 2005 and whose shares are traded on the Nasdaq First North Premier Growth Market. Their clinically verified nutritional supplements have been tested and are available in over 100 markets worldwide. All their supplements are gluten-free, soy-free, and made with natural ingredients. 
Zinzino is the holding company of the Norwegian research and production companies BioActive Foods AS and Faun Pharma AS. The company's headquarters are in Gothenburg, Sweden, and it has branches in Finland, Latvia, Norway, the United States, Australia, Hong Kong, Malaysia, and India.  
4. BergaMet
Bergamet is a leading brand offering the best nutraceutical natural heart health supplements to change your life. BergaMet supplements are naturally sourced, organic, and grown with no pesticides. BergaMet is a naturally sourced bergamot extract supplement with no added colors, flavors, or preservatives. Their supplements are also free of wheat, gluten, fish, egg, dairy, and lactose. The best thing is that all their products are tested and have no undesirable side effects. 
5. Total Wellbeing Diet
The CSIRO Total Wellbeing Diet differs from any other online weight loss program or diet available in Australia. Its 12-week online program gives you all the tools and education necessary to lose weight and develop healthy habits. The program is designed specifically for people who struggle with cravings or who need a simpler way to lose weight. Once you join this program, you will get access to these features: 1000s of delicious recipe ideas and online tracking tools. In addition, they also offer An Android and iOS companion app, Simple exercise plans, A refund incentive of up to $199, and more. 
ScoopCoupons is one of the best sites that offer the latest coupons and deals. We offer the best Discount and Promo Codes for money saving opportunities. Save up to 30% Off on all orders! So, what are you waiting for? Visit our site to enjoy a whopping amount of savings. 
How To Choose The Best Diet Supplements
Having the right amount of nutrition in the body helps in different fantasies. Everyone has a direct nutritional need. To maintain the body's nutrition, people consume fruits, green vegetables, nuts, juices, etc. But if a balanced diet does not meet the deficiency of vitamins and minerals, then supplements are consumed. 
While changing lifestyle, the lack of vitamins in the body is not fulfilled by daily diet. That's why many types of supplements are available in the market. When you buy dietary supplements in the market, you often do not understand which brand will be right for you. So today, we are telling you some tips to help you buy the best diet supplements for weight loss. 
1. Avoid supplements containing both calcium and iron
Nutrition, such as calcium and iron, are taken separately. They are never brought together. Calcium can interfere with iron absorption if you take iron for a specific health area.
Therefore, do not select such supplements in which both are together. If needed, take calcium tablets separately.
2. Look for activated forms of nutrients
The best supplements on the market contain good nutrients. They are already in their active form. Active forms of nutrients are also often better absorbed. Taking such a tablet or supplement in which the nutrients are inactive will become active when combined with some other element. 
3. Avoid synthetic folic acid
Some people have a genetic mutation that prevents their body from easily converting folic acid to its active form called 5-methyltetrahydrofolate. But you hardly know that it is wrong. Therefore it is always best to choose natural folate rather than folic acid.